BMO Vancouver Marathon – 2020 Cancelled
The 2020 BMO Vancouver Marathon has been cancelled due to increased COVID-19 concerns and the recent directive from the British Columbia Provincial Health Officer to ban all public gatherings that exceed 50 people. Centers for Disease Control and Prevention (CDC) also stated organizations should ban events with 50 or more people through May 11, 2020.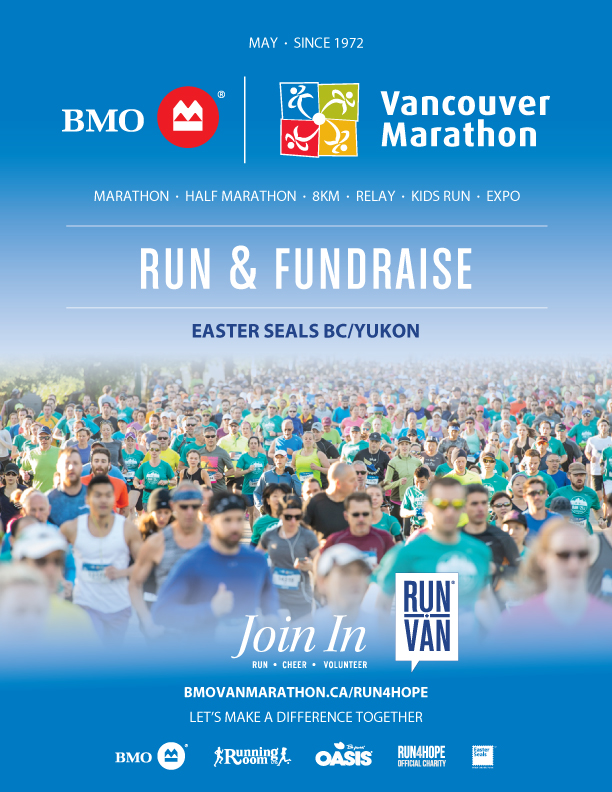 [
Let's make a difference together!
"The CGA Running Team has a long-standing, 33 year tradition of supporting Easter Seals Camps raising over $250,000 during that time. It humbly started way back in 1985 with our participation in the 24 Hour Relays at Swangard Stadium in Burnaby's Central Park, continuing through the Camp Challenge years, then the Scotiabank Half-Marathon and now the BMO Half-Marathon. We continue to support these camps because the opportunity to help the kids experience a special week in their lives is very important. This experience can be life-changing.  With the help of the wonderful staff of camp counsellors, these kids work on increasing their self-esteem and develop a spirit of knowing that they can achieve great things, if they so choose. Many of these kids have gone on to university, and some have returned to be enthusiastic ambassadors for Easter Seals. It's like watching your own kids grow up. It's quite heart-warming to see."