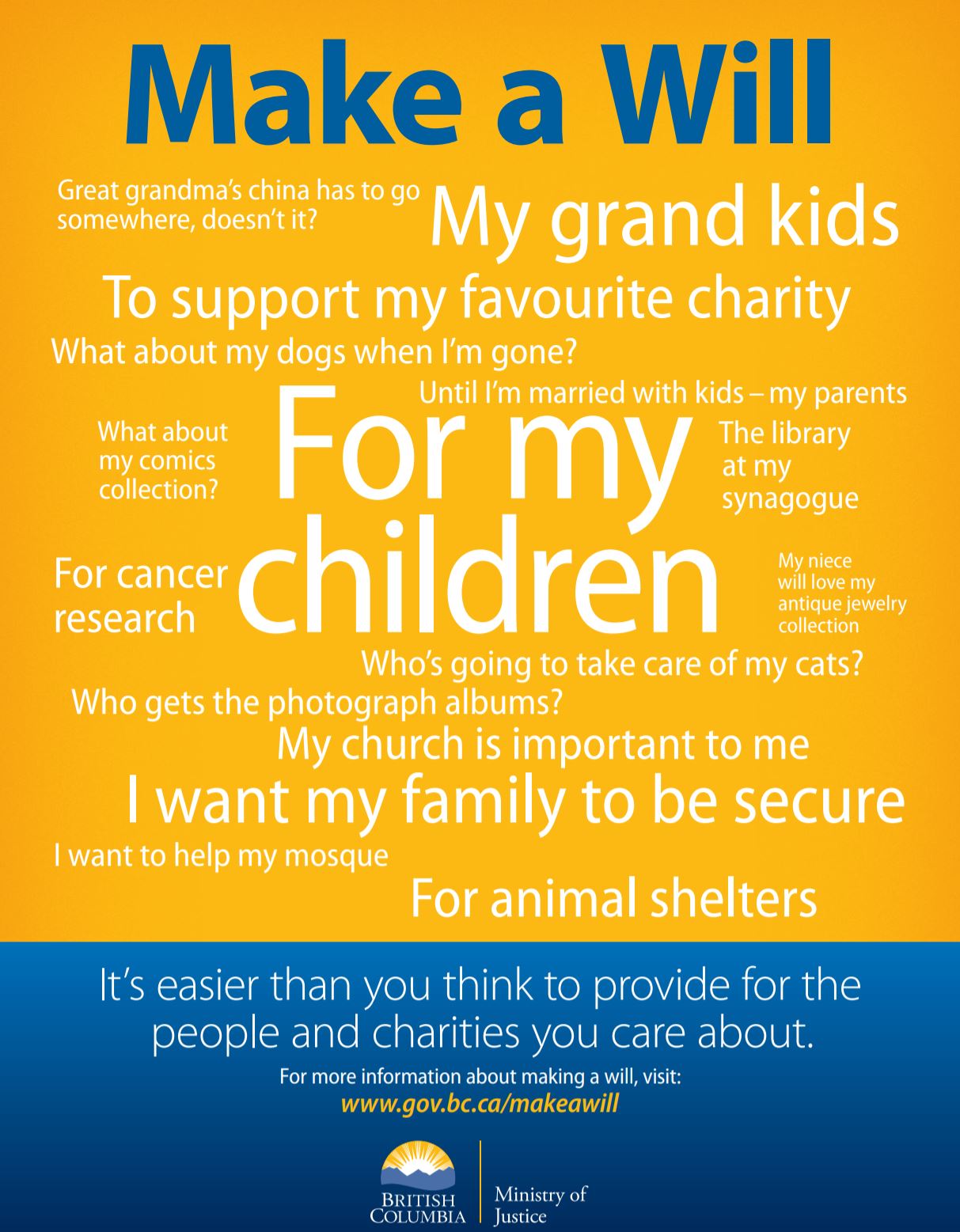 April 7-13, 2019, is Make-a-Will Week in British Columbia
This week is 'Make a Will week' in BC – a week designed to encourage the 45% of British Columbians who currently do not have will, to make one.
And as you take the time to make your will, please consider leaving a legacy in your will to Easter Seals. A planned gift to Easter Seals can allow you to leave a substantial legacy to help children, youth and adults with diverse abilities reach their fullest potential, while receiving significant tax benefits to your or your estate. Leaving a legacy is an effective way of showing your support to a cause you care about. As it usually involves some advance planning, this type of contribution is called a "planned gift."

Get Started
Whether or not you already have a will, the easiest way to include a gift in your will is to get help from a professional advisor experienced in preparing wills. Here are a few steps to consider when getting started.
1. Talk to your family
Make sure that your family members are aware of your intentions so they can support the achievement of your charitable goals.
2. Consult a Professional Advisor
Consult a trusted advisor to get the right expertise and advice. An advisor can explain your giving options and help you choose the gift that is right for you. Search for an advisor who is a LEAVE A LEGACY Partner.
Why Leave a Legacy?
You have the use of your assets during your lifetime.
You can ensure that your gift is meaningful to you.
Your estate will receive a beneficial tax receipt.
Your gift can be altered at any time should your circumstances change.
To find out more about Make A Will week visit: https://www2.gov.bc.ca/gov/content/life-events/death/wills-estates/make-a-will-week
https://www.eastersealsbcy.ca/wp-content/uploads/2019/04/Make-A-Will-1.jpg
1557
1213
Easter Seals BC and Yukon
https://www.eastersealsbcy.ca/wp-content/uploads/2022/01/75th-Horizontal-Logo-Design-ES-Logo-1.png
Easter Seals BC and Yukon
2019-04-08 04:53:12
2019-04-08 05:04:49
April 7-13, 2019, is Make-a-Will Week in British Columbia