Did you ever work at Easter Seals Summer Camp? Do you reminisce over your camp experience? The place where you helped campers realize their true potential? If so, we want to hear from you.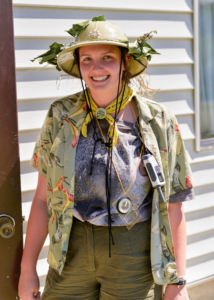 Camp Staff Alumni – Welcome!
If you worked at Easter Seals Summer Camps, and for whom Easter Seals holds special memories, we invite you to stay in touch, keeping you connected to the people, memories and spirit of Easter Seals Summer Camp.
As camp staff alumni, you are an important part of our family. Thank you for making Easter Seals Summer Camps a memorable and life-changing experience for children, youth and young adults with diverse abilities.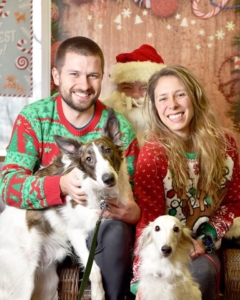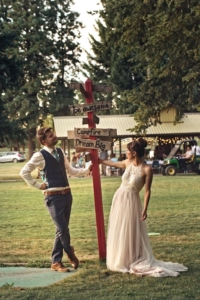 James and Keri
Ice cream sundae bar, karaoke, drive-in style movie, camp songs, games… Think this describes Easter Seals summer camps? It does, but it also describes the wedding of James and Keri that took place at Camp Winfield in September 2017.
Their love story began in 2011 when Keri first started working at camp – that year as a Recreation, Games and Ropes Programmer – and James, as the Head Coordinator. Love blossomed and they began dating in September and both come back to camp the following summer in the same roles. They stayed together throughout their schooling, and sometime after graduation, James asked Keri to marry him.
When it came to their wedding venue, there was no question: Camp Winfield – where they had fallen in love. But the pair didn't leave it to just making the venue about camp, they made sure their entire wedding reception was camp-themed. As James says, "It was very 'campy'!".
Keri and James have continued to make Easter Seals a part of their life. Winfield is now their permanent home where James is now the Director of Easter Seals Camp Programs and Facilities and Keri a teacher in the local school district.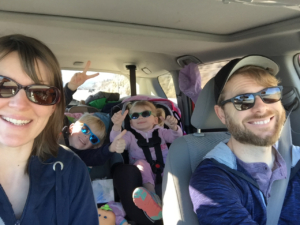 Rachel and Jacob
"Jacob and I both know what an impact camp makes, not only on campers, but on us – camp staff. It makes an impact on you during the summer, but it carries through for years later.
I had already spent one summer as a counsellor and knew I wanted to go back for a second time. Having already spent four months apart from my boyfriend while I was teaching in England, I left him a message one day saying I knew that he already had a summer job, but I was wanting to spend another summer at Easter Seals Camp and hoped he would apply. I knew he would love the job too. Luckily, he decided to apply and loved the job as much as I did!
That summer job also led us to our first full time teaching contracts. Jobs that happened to be at the school that was on the Shawnigan camp site at the time! It also led us to make Easter Seals a part of our wedding.
Rather than spend money on trinkets for wedding favours, we wanted to use the money for something more meaningful and decided to donate it to Easter Seals because of the impact it made on our hearts. Today, we also choose to make donations to Easter Seals as gifts we give to our children's teachers!
I had no idea that that first summer I spent working at Easter Seals camps would make such an impact, but I am so happy it did." ~ Rachel
Alumni for Abilities
Reconnect to camp.
Become part of the Easter Seals Camp Staff alumni group. It's a great way to see what Easter Seals has been up to since you worked at camp, find old friends, or take part in an upcoming event, such as an alumni camp tour or camp cookout event.
Share your story and photos with us.
Do you have a special Easter Seals camp story or memory you'd like to share? Do you have a great photo that we could add to our collection? If so, we'd love to hear from you. Just scroll down to fill out your information – it's that easy!
We know that Easter Seals Summer Camp is a place where staff realize their abilities and discover their full potential. Staff have gone on to be advocates for persons with diverse abilities, health care workers, doctors and teachers. Life-long friendships, careers and yes – even marriages – have been formed at camp. Connect with us below and share your story with the next generation of camp staff.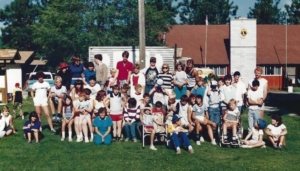 Join the 'Alumni for Abilities' Facebook Group.
The Alumni Facebook Page was created to share news and events of interest to Easter Seals camp staff alumni. Click here to join today!
Interested in a reunion?
Let us know by filling out the form below.
Sign up for the Alumni for Abilities e-newsletter.
By filling out the form below, you can share your stories and memories and we'll add you to our newsletter list. Twice a year, we'll send you information on what your fellow staff members and we, at Easter Seals, are up to.
Help send a child to camp.
If you've ever wondered how you can continue to change the lives of campers – consider making a donation. For as little as $10 a month, you can continue to change a life, and turn disability into ability!
"I first found out about camp through family members who work for the organization. They would talk to me about how camp would look to find good lifeguards each summer and encouraged me to apply. It wasn't until I got to camp my first summer that I realized I was going to be so much more than just a lifeguard. I was going to be a witch, an alien, a giant slug, Toucan Sam, or Santa Claus, to name a few. I was also going to be covered in goo and glitter. I was going to be singing whacky dining hall songs. I was going to be laughing so hard that I cried. I was going to be a role model. I was going to be making forever friends and making memories that will last a lifetime." ~ Kelti, Aquatics Programmer for three summers
Ways You Can Reconnect With Old Friends
Sign up for the Alumni Newsletter |  Share your stories  |  Join the Facebook group