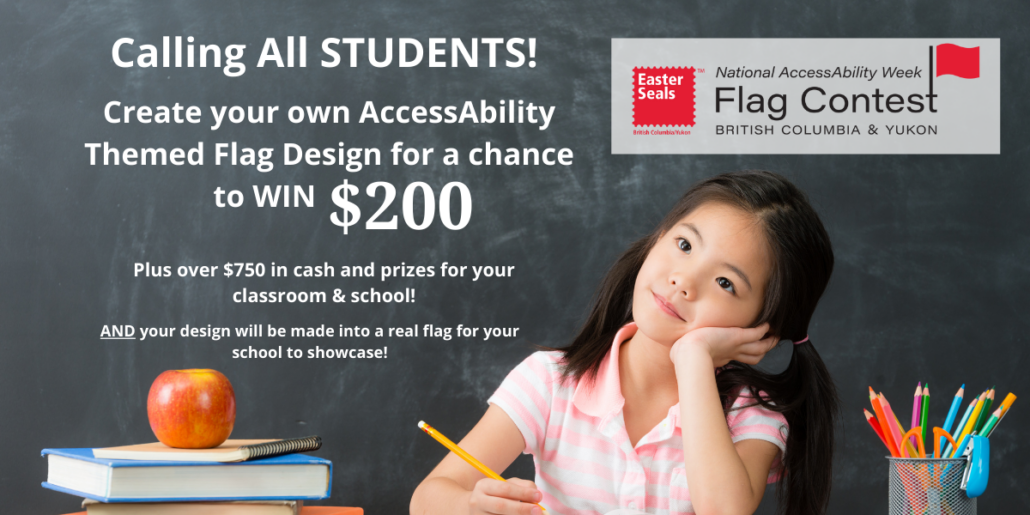 Create Your Own AccessAbility Themed Flag Design
Easter Seals invites British Columbian and Yukon students in Grades 6-12 to design a flag that symbolizes the theme Making BC/Yukon a Better Place to Live Through an AccessAble Society.
May 29 – June 4, 2022, is Canada's National AccessAbility Week – a week that celebrates the valuable contributions of Canadians with disabilities and recognizes the efforts of individuals, communities and workplaces that are actively working to remove barriers to accessibility and inclusion. For close to 75 years, a core mission of Easter Seals is to make the lives of people with disabilities better in British Columbia and Yukon.
FLAG THEME: Making BC/Yukon a Better Place to Live Through an AccessAble Society
Design inspiration ideas:
showcase what National AccessAbility means to you
include elements of British Columbia/Yukon
integrate community and inclusivity
A paragraph of 150 words or less, explaining the symbolism and/or story used in the design of the flag, is recommended, but not required.
Prizes
There will be two Grand Prize Categories based on grades:
Age Group A – grades 6-8
Age Group B – grades 9-12
Each Winner Receives:
$750 in cash for the teacher to purchase learning materials

$200 honorarium for the winning student

A Panago Pizza Lunch for the winning student's classroom

A real flag will be produced based on the winning design, and will be given to the student's school and be unveiled during BC/Yukon AccessAbility Week May 29 – June 4, 2022.
Community Runner-Ups
There will be 5 runner-ups selected each in 40 locations across BC. Runner-ups will receive a Panago gift card and the student's design will be displayed in their local Panago location.
Who Can Enter
British Columbia and Yukon youth in Grades 6-12
Submission Deadline – extended to April 30th
Midnight on Saturday, April 30th, 2022
Artwork Guidelines
design must incorporate the theme: Making BC/Yukon a Better Place to Live Through an AccessAble Society
must be an original design
no text or lettering elements
one sided – the same image will be seen on both sides
size – 2:1 aspect ratio; downloadable template available here
all parts must be solid colors (any two-dimensional media such as markers, watercolors, acrylic, tempera, pastels, crayon, pencils, collage or computer graphics)
design should be appropriate for a school setting
Not Allowed:
NO copyrighted material (such as comic strip characters, school or commercial logos)
NO photography
NO Metallic or fluorescent colours
How To Submit Artwork

Entries will be accepted through the online submission form below.
Files accepted include jpg, png and pdf.
Entries must be received by midnight on Saturday, April 30th, 2022.
Do not put your name or identifying information on the image itself. Include your name in the filename of your design and in the submission form only.
No files larger than 5 MB please.
Entry Guidelines
Only one entry per student. Entries that do not follow the above guidelines will not be considered. All entries become the property of Easter Seals BC/Yukon, and the student/teacher/school relinquishes all rights to the design.
The original winning artwork will be required to produce the flag.
Download a copy of the Contest Guidelines here.
Questions?
Email info@eastersealsbcy.ca and we will help as much as we can!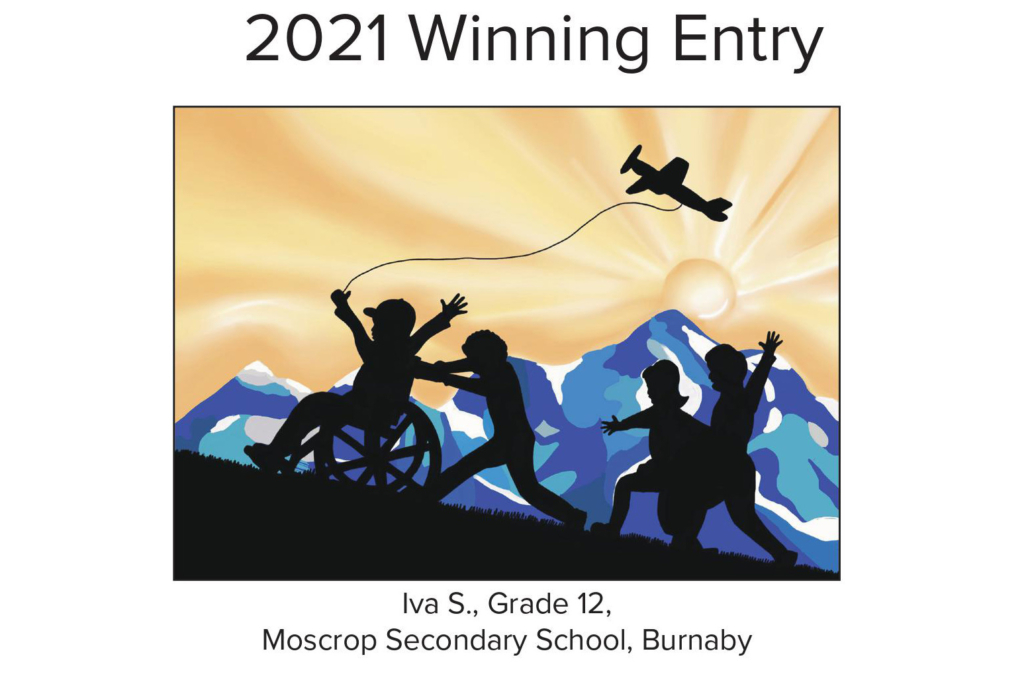 ---
Thank you to Panago Pizza for supplying pizza to the winners and runner-ups!