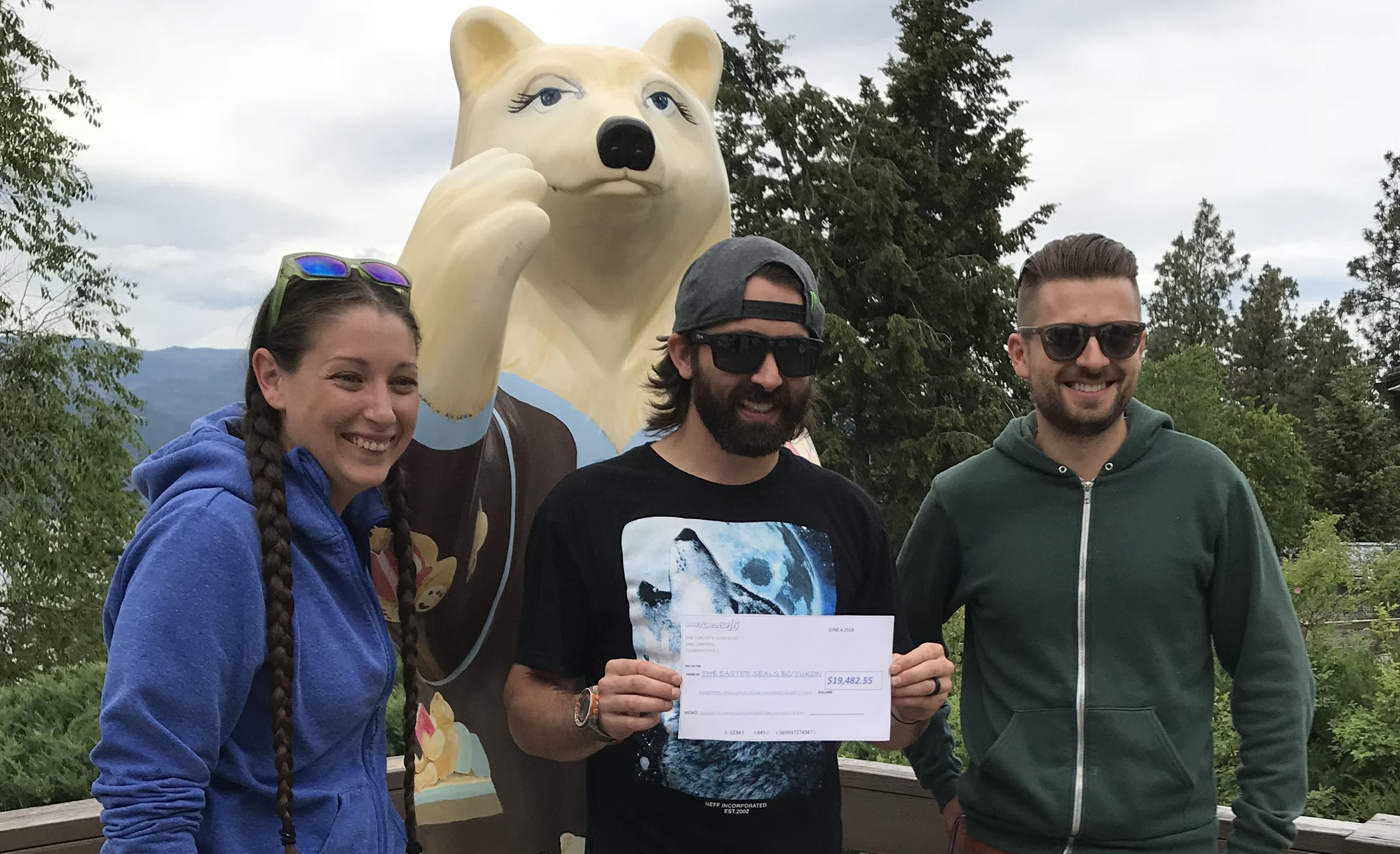 Brett Turcotte & Snowmobile Club Raise over $19,000 for Easter Seals
The Clearwater Sno-Drifters Snowmobile Club and local Snowmobile X Games gold medal winner Brett Turcotte and his wife Niki presented a cheque to Easter Seals last week of funds they raised for children and families who stay at Easter Seals Camp Winfield and Easter Seals House in Vancouver.
$19,482.55 was raised in March during the Snowmobile Drag Race and Freestyle show organized by the Turcottes. "My wife and I put the idea together to bring the community together and give back," says Turcotte. " I kind of just dug in and got all my resources together. You know do something that's really fun and give back to the community and build funds and donations for Easter Seals."
It is the generosity and compassion from people like the Turcotte's and the BC Snowmobile Federation that allows Easter Seals to create a future where all children with disabilities will benefit from Easter Seals.
Crystal Durnin from the BC Snowmobile Federation and Brett and Niki Turcotte traveled to Camp Winfield last week to present the funds to James Gagnon, Director of Camp Programs and Facilities at Easter Seals Camp Winfield. Since 1968, Camp Winfield has provided an overnight summer camping experience for children, teens and young adults with physical and/or intellectual disabilities. In the last 50 years, over 35,000 individuals have experienced the transformative magic of Easter Seals Camps in B.C.
About Easter Seals BC & Yukon
Since 1952, Easter Seals BC & Yukon has offered programs and services to individuals with disabilities to help build their self-esteem, self-confidence and sense of independence. Building on decades of experience, Easter Seals BC/Yukon is a trusted charity and established leader in the support of the disabled community. Whether helping someone improve physical mobility, house out-of-town guests who need a place to stay when coming to Vancouver for doctor's appointments, or simply gain greater independence in everyday living, Easter Seals helps people with disabilities address life's challenges and achieve personal goals. In 2018, Easter Seals celebrates one of their legacy programs with the 50th anniversary of their summer camp program.
https://www.eastersealsbcy.ca/wp-content/uploads/2018/06/IMG_0789-cropped.jpg
1555
2549
Easter Seals BC and Yukon
https://www.eastersealsbcy.ca/wp-content/uploads/2022/01/75th-Horizontal-Logo-Design-ES-Logo-1.png
Easter Seals BC and Yukon
2018-06-12 17:18:56
2018-06-12 17:21:03
Brett Turcotte & Snowmobile Club Raise over $19,000 for Easter Seals