Easter Seals House removes the worry of where to stay when there are so many other concerns to take care of.
"Easter Seals House takes away one worry when there's so many other worries. It removes the worry of where to stay when there are so many other concerns to take care of. We usually stay for about a week at a time. It's a peaceful place to stay, close to treatment, very inexpensive and has amenities that are so helpful, like underground parking," says Randy.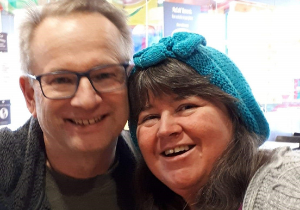 Randy and his wife, Kimberly, have been coming to Easter Seals House for almost 10 years, and when they arrived in 2019 for their fifth stay, they had no idea they were going to be part of such a milestone event – they were our One Millionth House Guests.
"We've been coming to stay at the House for almost 10 years now, when we need to come to Vancouver for surgery or check-ups at the hospital. I can definitely believe they're at their one millionth bed night because Easter Seals House is so valuable to so many people across the province," says Randy, as he holds back tears.
Easter Seals House is a home-away-from-home for families and adults throughout BC and Yukon who have to travel to Vancouver for medical treatment. With 49 individual double occupancy suites, each with their own full kitchen, the House provides personal autonomy to guests, so they can relax, cook and live in their own space. This convenience is important to everyone, like those with compromised immune systems and special dietary needs.
"The last time I stayed at the House I could hear children playing in one of the rooms," says Randy. "I thought how cool is it that these children could have a place to stay that is comfortable and where they can still have fun during what can be a very stressful time for their family."
In 2018, 58% of Easter Seals House guests were families with children needing medical care and treatment, and 42% were adults who stayed while in town for their medical care and treatment.
"What most people don't understand is that when we meet people from the hospital who are also staying at Easter Seals House, there's this connection that is like no other. When Kim and I returned for a check-up recently, we reconnected with Alex and met his daughter on their return visit to the city. We had previously met on the "millionth visit week" in February 2019. It' so uplifting to share moments in such a place of refuge!"
Easter Seals House is open 24/7 and alleviates some of the stress for guests staying in an unfamiliar city, for what may be one to two nights, a couple of months, or more than a year. The House also offers guests access to recreation rooms, large family kitchens, an outdoor garden, underground parking, free WIFI, and close proximity to hospitals and medical care facilities.
Thanks to you, guests like Randy and Kimberley have one less worry. Donate today and help keep the worry away for the next one million guests.