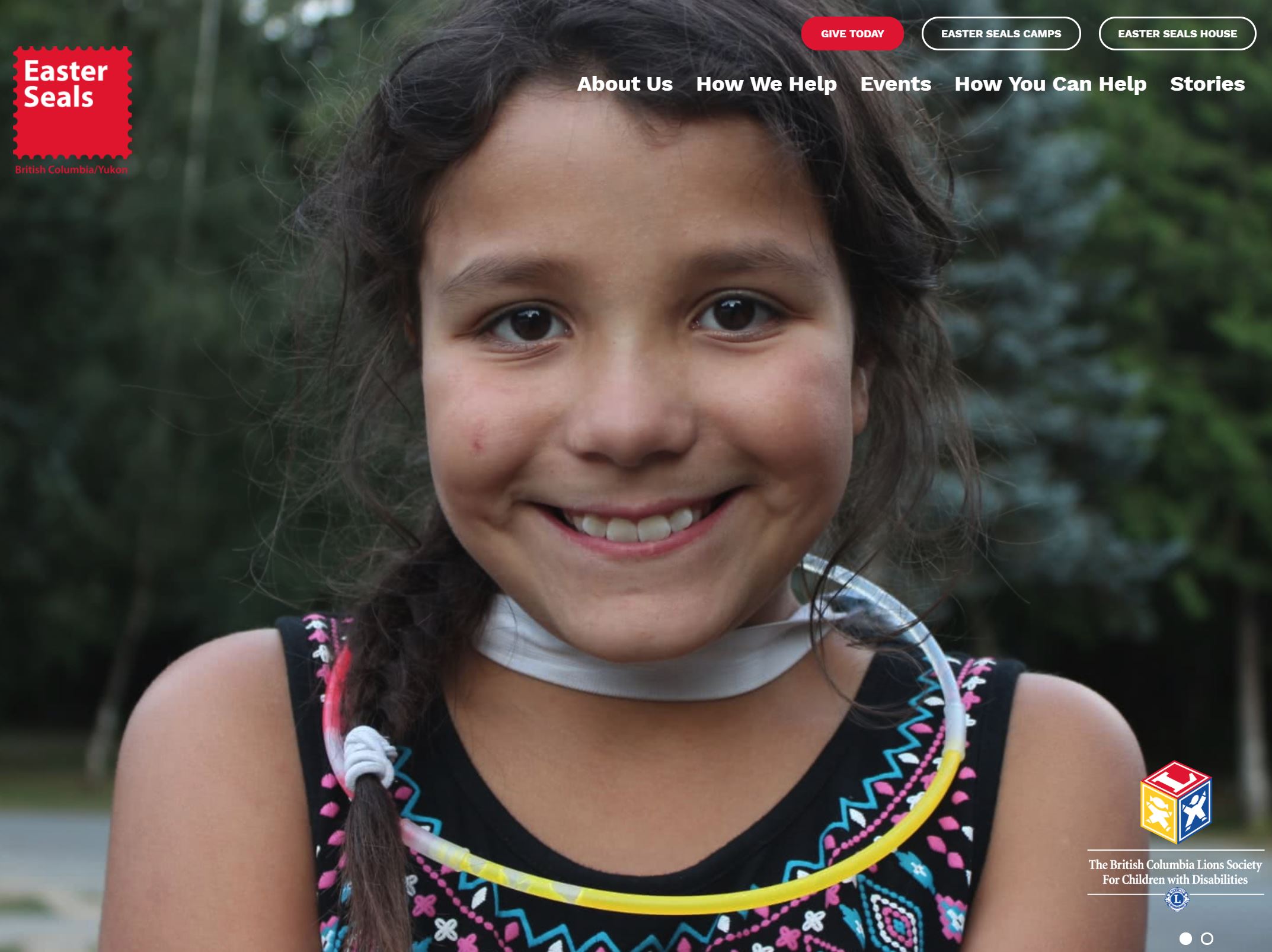 July 31, 2018 – Vancouver, BC – Collaborations are the new norm for this legacy charity in British Columbia as it looks to reimagine a future where it will help more families in need and persons with disabilities. Easter Seals BC & Yukon, a well-established charity for persons with disabilities, and also known as the BC Lions Society for Children with Disabilities, is seeking new collaborations in all areas of its operation – from program design and implementation, fundraising, marketing, administration, and real estate. This new strategy will enable the organization to optimize its resources to achieve more.
The first collaboration within this strategy is a redesigned website with the support of Caorda Web Solutions.
"Collaborations will allow us to leverage expertise and achieve more. By working with Caorda, we were able to optimize our limited internal resources while at the same time rethink how we communicate and engage with our supporters, clients, and donors online. With Caorda's guidance, we were able to provide an enhance online user experience, do a better job of sharing our story of how we make a difference in the lives of persons with disabilities, and to create a better platform to engage our supporters," explains Charlene Krepiakevich, President & CEO, Easter Seals BC/Yukon. "As part of our new strategic plan, collaboration is a key strategy and will enable us to help more families, help more kids and persons with disabilities. Our experience with Caorda demonstrates how these types of relationships can be beneficial to all those involved."
Visitors to the new website will find current information on Easter Seals programs and services, events and fundraisers, ways they can help, and opportunities to donate in support of families in need and persons with disabilities.
"Easter Seals BC & Yukon is an incredible organization. For the past 15 years, Caorda has proudly provided website design and development services. This new website showcases the wonderful work they do to support people with disabilities in BC and Yukon," says Lorne Neil, Director of Sales & Marketing at Caorda.
You can check out the new site at www.eastersealsbcy.ca
-30-
https://www.eastersealsbcy.ca/wp-content/uploads/2018/07/Home-Page-Photo.jpg
1606
2146
Easter Seals BC and Yukon
https://www.eastersealsbcy.ca/wp-content/uploads/2018/04/easter-seals-bcy-logo.png
Easter Seals BC and Yukon
2018-07-31 21:36:17
2018-07-31 21:36:17
Collaborations are the new norm for local charity