More than 1,000 km from home and away from her older brothers, 5 and a half month old Emma lays in Children's Hospital in Vancouver after open heart surgery. Mom (Laura), Dad (Floyd) and older sisters, Samantha and Katie wait by her bedside for her to wake up. Emma wakes and looks at mom and dad with her deep blue eyes, letting them know she's a fighter and she's going to be okay.
Until you've gone through this experience yourself, you can't even begin to imagine the strength a family needs to see them through this unpredictable journey.
Laura knows about this journey and spent some time reflecting on it:
"It all began when I was 28 weeks pregnant and a routine ultrasound detected that our baby would be born with a heart defect. After undergoing more tests and meeting with cardiac specialists at Children's Hospital we were told that Emma would need open heart surgery between 3 and 6 months after birth.
Emma was born in Smithers and we are grateful that we could have her in our hometown and be near family and our support systems.
When your tiny little baby needs to have heart surgery you need the support of your family – but that's not possible when the surgery is taking place so far away. On one of our trips to Vancouver we were told about a place called Easter Seals House. It was conveniently located within walking distance of the hospital and is a place for families from out of town who need a home while a loved one is seeking medical services.
If you had asked me a year ago what Easter Seals House was, I couldn't have told you. If you ask me today – I can't stop talking about it.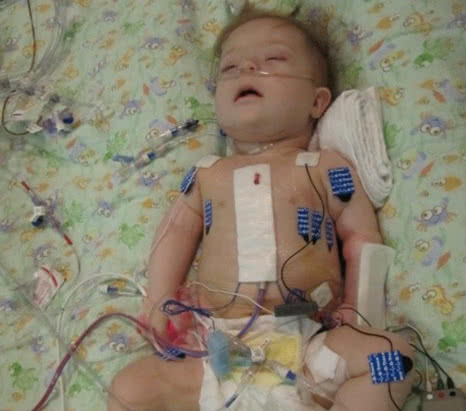 A place that was close to Emma while she was in the hospital was exactly what I was looking for.
I didn't think of it as anything else but a place to lay my head down at the end of long days at the hospital, but at the end of our two weeks stay at the house, I realized it was definitely much more than that. It really was a 'home away from home.'
The house provided me with a private room with my own bathroom and kitchenette. The rooms were warm, cozy and clean. The staff are incredible, caring and supportive; they take the time to get to know you as a person, not just a guest. They knew Emma by name and stopped to smile and talk to her. They lent me a stroller so that I could take Emma on long walks to get a break from our medical appointments.
Each floor has a laundry room, community living room and kitchen where you can meet other families that are going through similar experiences and it makes this lonely journey all that much easier. It's here that Emma and I met a couple who are expecting a child with similar medical conditions and I'm hoping that when they saw Emma's strength it gave them a bit of hope for their own child.
Easter Seals House is an incredible place that is a home to so many families and I want everyone to know how essential it is to the community." – Laura